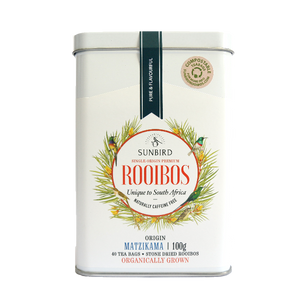 Sunbird Rooibos
MATZIKAMA • Regular-Cut Rooibos in 40 Compostable Tea Bags • 100g
Sale price Price R 125.00 Regular price
TASTING NOTES
This is a wonderful Rooibos tea with a malty aroma leading to caramel flavours. Matzikama comes in compostable teabags.
THE TERROIR
Matzikama means the place of sweet water. Despite the dry scrubland bordering Matzikama Mountains, a high altitude plateau provides a source abundant water. In spring, waterfalls cascade off the cliffs that tower above the arid plains below. On top, the sweet sound of singing sunbirds, our mascots, can be heard.
INGREDIENTS
Organically grown Rooibos tea (100%). 
BREWING INSTRUCTIONS
Put one bag per cup in a stove-top kettle and boil vigorously for 2-4 minutes. Or, steep in a cup with freshly boiled water for 5-6 minutes.
PACKAGING
Tea bags are made of 

renewable biopolymer, polylactic acid (PLA). They are certified compostable and oil based plastic free. Consumer can responsibly dispose of teabags in their local council food bin or organic waste collection which are essentially industrial compost facilities. 

 

Teabags are packed in recyclable polypropylene pouches

White tin box, box made in South Africa
Height 15.2cm
Width 7cm
Length 10cm
CERTIFICATIONS
Halaal certified by SANHA, South African National Halaal Authority
DELIVERY CHARGES
CAPE TOWN: R60. Free delivery for orders larger than R350. Delivery in 2-3 working days. 
REST OF SOUTH AFRICA: R125. Free  delivery for orders larger than R500. Delivery in 3-6 working days.