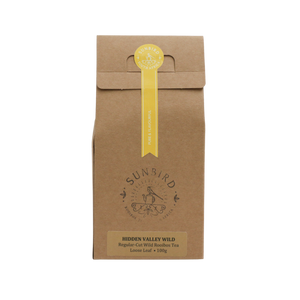 Sunbird Rooibos
WILD GROWN ROOIBOS • REFILL • Regular-Cut Loose Leaf Rooibos • 100g
Sale price Price R 69.00 Regular price
TASTING NOTES
Light in colour with fresh fruit notes accompanied by low tannins. Different 
sub-species of wild Rooibos add to the complexity of the flavours. The more mature plants brought milder flavours but with smoothness and a long finish. Brew at a lower temperature to bring out the best in this discerning tea.
THE TERROIR
Our wild tea is from the same farm as our Hidden Valley terroir described on the previous page. This tea is sustainably harvested from naturally vegetated slopes that are too steep, rocky or inaccessible to be commercially farmed. We only harvest every other year to ensure seeding and regrowth is sufficient to maintain a wild crop. The altitude ranges from 650m to 750m.
DELIVERY CHARGES
CAPE TOWN: R60. Free delivery for orders larger than R350. Delivery in 2-3 working days. 
REST OF SOUTH AFRICA: R125. Free  delivery for orders larger than R500. Delivery in 3-6 working days.