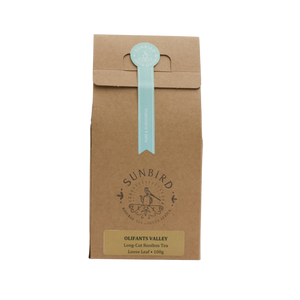 Sunbird Rooibos
OLIFANTS VALLEY • REFILL • Long-Cut Loose Leaf Rooibos • 100g
Sale price Price R 69.00 Regular price
TASTING NOTES
A floral burst of aroma that continues through on the palate. A light bodied tea with a smooth finish for a relaxing afternoon or evening drink.
THE TERROIR
Olifants Valley is the exception in our range in that it is not sourced from a single place, but rather the broader Olifants Valley region. It is sourced from a variety of fields and produced with a longer cut leaf, making it an exceptionally premium tea.
INGREDIENTS
Organically grown Rooibos tea (100%).
BREWING INSTRUCTIONS
Put one teaspoon per cup in a stove-top kettle and boil vigorously for 2-4 minutes. Or, steep in a cup with freshly boiled water for 5-6 minutes.
DELIVERY CHARGES
CAPE TOWN: R60. Free delivery for orders larger than R350. Delivery in 2-3 working days. 
REST OF SOUTH AFRICA: R125. Free  delivery for orders larger than R500. Delivery in 3-6 working days.