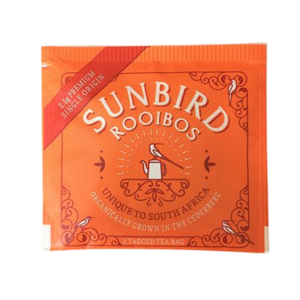 Sunbird Rooibos
SUNBIRD ROOIBOS SINGLE SACHETS • 40 Individually Wrapped and Tagged Teabags • 100g
Sale price Price R 110.00 Regular price
Our high quality organically grown Rooibos tea is packed in a stylish yet moisture-proof sachets to lock in the freshness of Rooibos. Individually wrapped sachets also protect the tea bags from light and moisture which take out some of the more delicate Rooibos, causing the tea to lose its depth of flavour and some of the health benefits.
A recyclable cardboard box comes with 40 individually wrapped teabags with tags each weighing 2.5g, totaling 100g of Rooibos tea.
We spent a lot of time finding biodegradable packaging options but unfortunately this is not yet possible at our scale. 
CERTIFICATIONS
Halaal certified by SANHA, South African National Halaal Authority
DELIVERY CHARGES
CAPE TOWN: R60. Free delivery for orders larger than R350. Delivery in 2-3 working days. 
REST OF SOUTH AFRICA: R125. Free delivery for orders larger than R500. Delivery in 3-6 working days.